I questioned a few locals as to why a city named after a dam on the Amstel River was called Amsterdam and not Amsteldam and no one seemed to know? I finally got an answer in the Amsterdam History Museum after seeing an old map labeled "Amstelredam". That is the old way to spell and say Amsteldam and when it was spoken in Dutch others heard the "R" sound and not so much the "L" so the L disappeared and eventually the Dutch gave in and said okay, Amsterdam it is.
It is interesting to think about the origins of language when you come to a country where English is not the language of the citizens. First of all we humans have basically the same physical characteristics that chimps have: lungs, throat, voice box, tongue and lips. But we're the ones singing opera and talking to each other. That is because over thousands of years, humans have evolved a longer throat and smaller mouth better suited for making different sounds. When we started using these evolving physical characteristics to make up spoken words for things it was local, but you can see that there were a lot of similarities in words for things in places like Western Europe.
If we had Twitter and Facebook back then we would probably all be speaking the same language. Someone would tweet that this is called a "blog" and that would be that.
Speaking of language, you can get by with a little effort anywhere in Europe if you do not speak the native tongue, but it is difficult to find someone in Amsterdam who does not speak English. Most Dutch citizens speak English and many also speak French and or German.
I am on the train to Maastricht and The European Fine Art Fair. Like a lot of these planes and trains my emotions are mixed, sad about leaving, but excited about my next stop. The only leg that was missing the "sad about leaving" part was the first one from the US to Amsterdam. I will have to leave the analysis of the anticipated emotions for the last leg until then. Maybe after a month in Paris I will be longing for my friends in Santa Fe and my own bed, but I am guessing that the "sad about leaving" part will be pretty strong.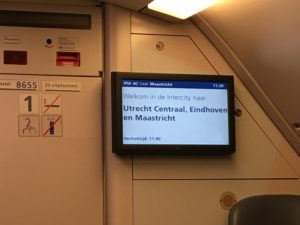 I will leave you with some practical information about Amsterdam. I highly recommend the Hampshire American Hotel in the Leidseplein (Liedsa plane). It is where the famous people stay and it is very nice with a great buffet breakfast and it is not that expensive. It surrounded by restaurants and bars including my favorite, the famous Amsterdam Bourbon St Blues bar.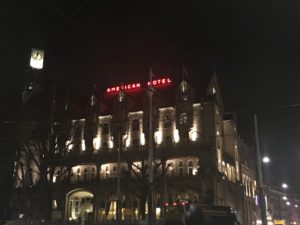 The tram stops out front of the hotel and it will take you to the left or Northeast to the train station in a few short minutes or to the right or Southwest to the Rijksmuseum, the Van Gogh, the Stedelijk museum and the Concertgebouw which are all within a 5 minute walk. You can get a 1 day, 2 day or 3 day GVB pass for all the Trams and buses at the hotel desk or on most Trams.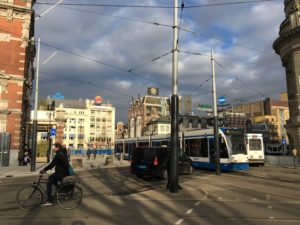 Protect your stuff! Although not nearly as bad as Paris, watch out for pickpockets! I am using exclamation points for a reason! Do not carry wallets or cell phones in outside pockets or carry purses with open tops! Do not get distracted by someone offering help because you are looking at a map or some other activity. Their friend may be behind you.
I got these same tips the first time I went to Paris and I lost my wallet.
Lastly, for your health be constantly alert for bicycles, scooters and trams. It is easy to not notice that the marked path on the street side of the sidewalk is for bicycles and scooters and the tracks going down the street are for trams. You will get the point when one of these modes of transportation wizzes by you inches from you elbow. Stay in your lane applies to walking too in Amsterdam.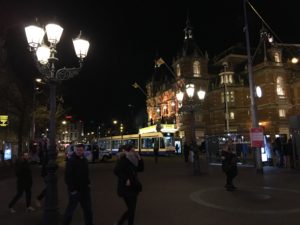 Most of all I urge you to visit this beautiful city full of art and entertainment and have fun although it is hard not to.
I know I skipped a blog about the art in the museums of Amsterdam and that's next.