During one of those pandemic nights, I calculated I have spent 180 days in the Saint-Germain-des-Prés neighborhood in Paris over the course of the last 8 years. One of my favorite streets there is rue de Buci. It is lined with cafes and always crowded, except for that day in late March of 2020 when I walked out of my apartment to rolled up awnings and widows full of stacked chairs and made my way the one block to Boulevard Saint-Germain to find a taxi to take me to the the airport.  
That was over two years ago and I am finally heading back to Europe for 3 weeks. It is hard for me to even say, but after all this talk about Paris, it is not on my itinerary this trip. My objective this time is to visit three of the top art and antique shows in the world.  The first stop is going to be BRAFA in Brussels The BRAfA Art Fair, created in 1956, is one of the world's oldest and most prestigious art fairs, famous for the high quality fine art, antiques, modern and contemporary art and design.  
After a few days in Brussels it's only a 90 minute train ride to Maastricht. The European Fine Art Fair (TEFAF) there is widely regarded as the world's preeminent fair for fine art, antiques, and design. TEFAF Maastricht will welcome 275 of the world's most prominent dealers in fine art and antiques covering 7,000 years of art history and it lasts 12 days. Before the pandemic I had not missed this fair in 7 years and I am thrilled to be going back. I could add a lot of pictures of art, but this arrangement was in the entryway in 2019 will give you an idea of the magnitude of this event and yes they are all living flowers.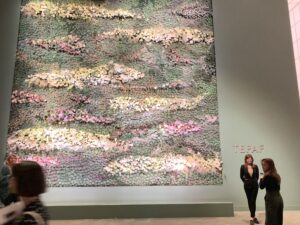 After several days I will board a Eurostar high speed train and head for the English channel tunnel for London for 10 days. Although I am looking forward to visiting London's sites and sounds including the countless museums,  my focus will be "Masterpiece London".  Their website states, "Masterpiece London is the unmissable art fair where visitors can view and buy the finest works of art, design, furniture and jewelry – from antiquity to the present day. The fair offers an unparalleled opportunity for new and established collectors to discover exceptional works for sale, from international exhibitors spanning every major market discipline."
I am excited beyond measure for this new adventure after over 2 years of hibernation and I will attempt to document this journey as well as I can. My plane leaves ABQ at 7:30 AM and I am hoping I can get some sleep.