Paris has always been a magnet for artists of all kinds. Maybe they came because they knew they would find people here who understood them and appreciated what they were trying to do.
I am not sure anyone knows exactly why, but the French have always seemed to have an understanding of how important a role the arts play in nourishing the soul and encouraging the human sprit.
The French Ministry of Culture and Communications has a budget of $12 billion US dollars a year. Around half of this goes to state broadcasting, and the rest is spread widely in the form of subsidies to arts organizations, museums, heritage sites, artistic creation in many fields and arts education at school. The US has a population that is five times that of France and the US government spends about .02% of the French budget and the current administration would like to cut all of that.
There are around 130 museums within the city limits of Paris, but the Louvre, the Musee d'Orsay and the Pompidou form the foundation of the history of art in France.
The Louvre houses art created before 1848, the Musee d"Orsay covers from 1848 to 1914 and the Pompidou from 1914 forward. So if you want to see Rembrandt, Da Vinci's Mona Lisa, Venus de Milo and huge pictures depicting religious scenes and great battles go to the Louvre. If you want to see Monet, Renoir, Manet, Morisot and the other Impressionist along with Post-Impressionist Van Gogh, Gauguin and Cezanne go to the Musee d'Orsay and if you want to see art like that of Picasso, Calder, Braque, Derain, Kandinsky, Matisse and Rothko, go to the Pompidou. These lines are blurred a little by the overlapping styles art.
King Francis I formed the nucleus of Royal Art collection in the Louvre in 1546. At that time it was the Royal Palace, but when Louis XIV left it for Versailles in 1682 it became the center for art in France and was officially designated the National Museum in 1793.
It seems everyone going to Paris has the Louvre on their list of things they want to do along with going up the Eiffel tower and visiting Notre Dame and I would not recommend any of them unless you are staying for an extended period of time. Do not spend time in line at Notre Dame, take a photo and move on. View the Eiffel tower from the Trocadero or better, from the top of the Montparnasse tower, but I do not recommend spending the time in line to go to the top.
The Louvre is the largest museum in the world covering thousands of years of art history. It has about 10% of its collection or 38,000 of the objects on display in an area covering about 15 acres with 8 miles of hallways. It is estimated that it would take weeks to glance at everything. If you must go be sure to get the "highlights" brochure and walk fast. You can say you looked over the top of the heads of many and saw the Mona Lisa behind its plexiglass case and you saw the Venus de Milo. It is an incredible archive and I am glad it's there and being preserved, but I am not a big fan. I like to think of it as art when it was dictated by the church, the politicians and the rich. I did go last year to see the Delacroix special exhibit. I am not saying do not go to the Louvre, but it is at least seventh on my list of Paris Museums to visit and not first, as many would have you believe and that is my opinion.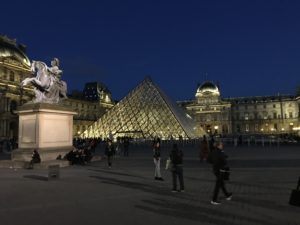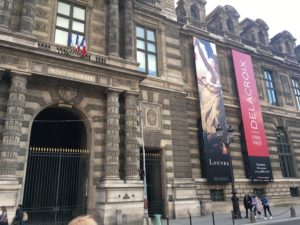 There are many museums in Paris I do recommend and at the top of that list is Musee d'Orsay. It was built as a train station to service the Paris Exposition of 1900, but it was turned into a museum in 1986. This great museum covers from about 1848 to 1914, which, to me, is the most exciting period in all of art history. The significance of the mid 19th century is tied to the evolution of photography and how it set the artists free. The results were Impressionism, Post-Impressionism, the Nabis and the great sculptors of that time. If you want to see Monet, Renoir, Manet, Degas, Pissarro, Morisot, Van Gogh, Gauguin, Cezanne, Rodin and many others of the period, this is where you will find them.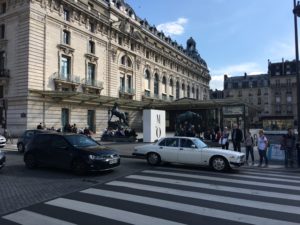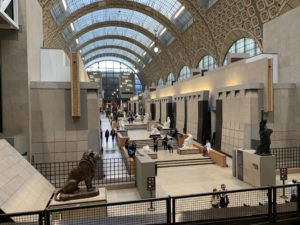 The Pompidou museum is my second most favorite museum in Paris covering art created since 1914. Here you can find the Fauvist like Braque and witness the birth of abstraction in one room by seeing four Kandinsky paintings from 1910, 1911, 1912 and 1914. They are all very colorful, but in the 1910 painting you can see a horse and rider although they are  stylized and the horse is blue, but by 1914 it is all about shapes and colors.
There are many other great museums in Paris I always try to visit when I am here. The last paintings by Monet were the giant Lily Pad paintings he completed just before he died in 1926. They were all about 7 feet high and as much as 40 feet long. He completed 12 of them and 8 can be found across the Seine from Musee d'Orsay in the Musee l'Orangerie. There special to see and do not miss the great permanent exhibit downstairs showing the collection of the art dealer Paul Guillaume (1891-1934). There is also always a temporary exhibit there and this year did not disappoint with an incredible show featuring "Der Blaue Reiter" or The Blue Rider" German Expressionist group with Franz Marc, August Macke and Wassily Kandinsky.
I always make it to the Musee Marmottan. It is a special museum, a little out of the way, with a great section on Bert Morisot and her daughter Julie, but it is mostly know for its collection of Monet's. Their archives contain the family's collection of his drawings and personal items. The biggest attraction to me is the painting that gave Impressionism its name. Claude Monet brought a painting to the group's first show in 1874.  He called it "Impression, soleil levant" or "Impression sunrise" and the critic Louis Leroy, in his scathing critique, wrote that he guessed that it was Monet's impression of a sunrise and he referred to the group as the Impressionist and it stuck.
People will often tell you that no photograph will ever compare to seeing a painting in person and for me that was never truer than it was with this painting. It is hard to see in a picture, but there is no shade of orange that exists that Monet did not include in this painting. (click on it and blow it up)
The Musee Rodin and the Musee Picasso have always been a favorites of mine and I would add them to my list. Do not forget that all of these museums have ever changing special exhibits and you need to do a little research before you get here.
Okay, if you still have time, now I recommend the Mona Lisa.