This was my second visit to "Art Paris" which is the fantastic Art Fair held every spring in the Grand Palais on the banks of the Seine. "Art Paris" is the leading fair for modern and contemporary art in Paris and this year it brought together 143 galleries from 22 countries.
The venue itself is a work of art. The Grand Palais des Champs-Élysées, commonly known as the Grand Palais was built for the Universal Exposition of 1900. It was constructed in the famous Beaux-Arts style of architecture taught at the world renowned École des Beaux-Arts. It proudly proclaims that it is a monument dedicated by the Republic to the glory of French art which reflects its original purpose, that of housing the great artistic events of the city of Paris. "Art Paris" is clear evidence that the people of France have not lost sight of that original purpose that is carved in stone on the façade.
The champagne was flowing, the event full of fascinating people and the art was impressive. It was a glorious time and my senses were aflame.
I suddenly became aware of a special buzz emanating from an intense swarm of people. Those fuzzy microphones on long poles gave me an indication that the Queen Bee or someone really important was in the center of that mass. My paparazzi training kicked in and I knew there was no way I could penetrate that mob so I noted the direction they were moving, backtracked and headed down a clear aisle and got in front them. I stood behind a sculpture that I knew would part the crowd and waited. My plan was flawless and suddenly I was standing there a few feet from the President of France, François Hollande.
I was impressed that he felt it was important to attend the Vernissage of the Paris Art Fair and I think it is significant that a government and its President give that kind of status to art. It was interesting to watch the international news from Paris the next evening and notice that roughly 24 hours later he was sitting at the right hand of President Obama at the Nuclear Security Summit in Washington, DC.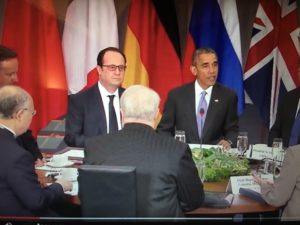 I did a little research to find out who the woman in the right foreground of the picture below was and my investigation involved exploring the Internet for pictures of women that may be close to President Hollande. I discovered that I could have shortened my search by turning to any French citizen and asking them who she was. Later I showed the picture to Sylvain, who was serving me food at l'Avant Comptoir and the next day, to a lady next to me on the subway and their answers were quick and accompanied by a look of surprise that I had to ask, "That's Audrey Azoulay the French Minister of Culture". I wonder how many Americans could name one of our cabinet members from their picture other than John Kerry?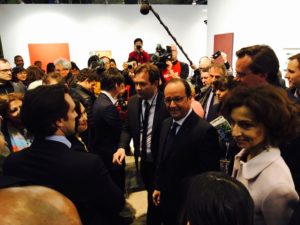 This intrigued me and I decided to compare the President's Cabinet in the United States with the President's Cabinet in France and they pretty much mirror each other with two glaring exceptions. The first is Madam Azoulay and the "Ministry of Culture" and second is that they have a "Minister of Ecology, Sustainable Development and Energy". They have modernized the name of this department as it used to be called the "Ministry of Quality of Life". When you think about the fact that in the United States these two areas are not represented in the Cabinet it is pretty telling.
Later I was a discussing this subject with some people I met and when I told them we did not have a "Minister of Culture" in our cabinet one of them looked at me and said, "but who looks out for the arts?" The expression on their faces was that same look of incredulity I had seen before when they asked me about Donald Trump.
I decided that maybe I should not tell my new friends that the chairman of our House of Representatives Science Committee is a creationist who believes that climate change is a hoax. Instead I just stood up on a chair and sang a verse of Lee Greenwood's "I'm Proud to be an American"…I'm sorry, I digress. I vowed I would never bring politics into this blog, but I guess I have been away too long.
See you all soon.
"Vive la France!"