The last five days at the European Fine Art Fair were very intense. After two days I could tell you with certainty that I had walked by all 275 stands and circled ones I wanted to return to because I saw a painting or an object that I wanted to spend time looking at or ask about. I know this because I dutifully marked my progress on my map of the site.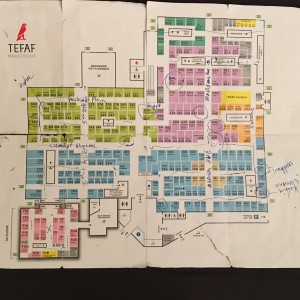 The interesting thing is that the third day when I started retracing my steps it seemed like I had never been there before. It was as if they had all changed out there stands. I recognized the great 24″ x 29″ Matisse for $18 million with Hammer Galleries of New York and the incredible 8 ft x 6 ft Basquiat for $8 million in the stand of Robilant and Voena of London and Milan, but how had I not seen that bust of Balzac by Rodin and how did I manage to walk by that large painting of that lady by Kees Von Dongen and that mobile by Calder?
The next two days were no exception. It seemed every time I walked through the hall I saw new beautiful things and I cannot help but think about what I may have missed. The best part is the education. The 275 dealers in the hall are the best in the world at what they do or they would not be here and they love their jobs, but most of all they love talking about their passion. It will take some time to absorb what I learned. Like the tragedy behind those beautiful 18th century French Gilt clocks. It is estimated that 20,000 craftsmen died because the process of applying the gilt (gold) involved them handling deadly poisonous mercury. This one was owned by the Rothschild family.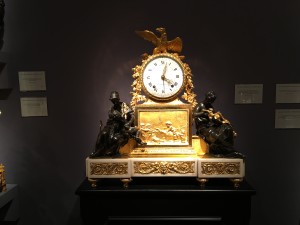 One of my (all-time) favorite conversations was with Chris Stolwijk, the former Head of Research at the Van Gogh Museum. He was instrumental in helping Gregory White and Steven Naifeh gather information for their book "Van Gogh: The Life". We talked extensively about the mysteries surrounding Van Gogh death and the "ear incident" and I will add much more on that subject later.
The high speed trains in Europe like this "Thalys" I am on are an experience. If you can image sitting in a luxurious seat with tons of legroom while a lovely French girl comes by with complimentary drinks and food that put the airlines to shame and all this is happening at 200 mph as I speed toward Paris. The best part is that it is going to drop me off at the Paris Nord station in the heart of Paris only a few hundred feet from a Metro (subway) that will take me anywhere in the city in minutes. The Charles De Gaulle airport is 20 miles northwest of the city.
I thought I would end this post with a video to give you an idea of how amazingly smooth and quiet the ride is at 200 mph in a high speed train. If you find it buffering every few seconds play it through all 13 seconds and then play it again a second time and it should be fine.