I have been in Paris for 6 days and it is not been the typical 6 days in Paris. The reason is that I am fortunate enough to still have about 3 weeks to go so there is no reason to rush. I arrived by train Thursday the 21st from Maastricht and focused on getting settled in my vrbo.com apartment in Saint Germain de Pres on the left bank. This was the sixth time I have stayed in this neighborhood so I know it well. I headed out to the local Starbucks for a bag of Sumatra and the nearby Carrefour market so I was good for breakfast. The way home included more stops at the Boulangerie, Fromagerie and La Dernière Goutte, my favorite wine shop.
I settled in for the evening and broke off a generous piece of a baguette, grabbed some cheese and poured myself a glass of my favorite Sancerre and put my feet up. Against my better judgement I turned on the TV to one of the many English news channels available including France 24, BBC, Al Jazeera and CNN International just to be sure there wasn't a nuclear cloud heading my way or that all travel to and from the US had been banned. Either would have been important because in the case of the nuclear cloud I would have raced out the door for one last meal at l'Avant Comptoir and in case of a travel ban, I would have had to call Thierry at Paris Best Lodge and extend my stay, but you will never guess what was on the news. Brexit, Brexit, Brexit, Brexit, Trump, Brexit, Brexit, Trump,Brexit and finally they got to the weather and I found out that it was going to be 80 degrees in Nairobi tomorrow and after that bit of comforting news and and an empty wine glass I drifted off.
Friday was a beautiful day and I decided to just go for a walk. The Seine is only 1/2 block to the north and I headed that way and took a left browsing the booksellers or Bouquinistes along the way. I passed the Louvre across the river, Musee d'Orsay on my side and after about 1.5 miles I arrived at the Grand Palais. I was on a mission.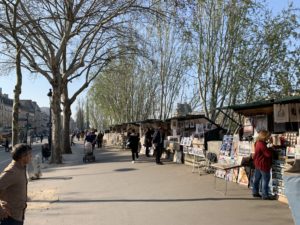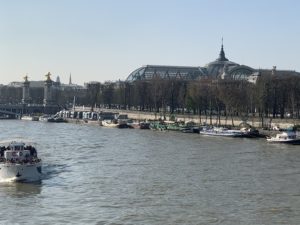 I knew that for the next 3 days Le Saut Hermes at the Grand Palais would bring together the very best horses and riders from the Dressage and Show Jumping world to compete in this unmissable event on the international equestrian scene. It had been sold out for months, but I was determined to find a ticket. All I got was a lot of pleasant smiles and "sorry, but there are no tickets available". So I headed home to make my "Need One Ticket" or in this case "Besoin d'un Billet" sign. You have no idea how many sold out events I have gained entry to over the years by using that simple sign. Someone always has a sick friend who could not make it and once they realize you are a fan and not a scalper it is easy to find one. The good news is that before I made the sign I found a ticket online with a broker.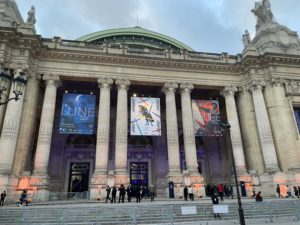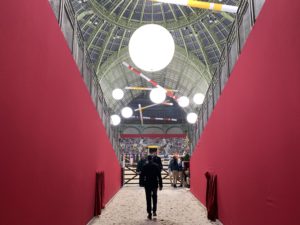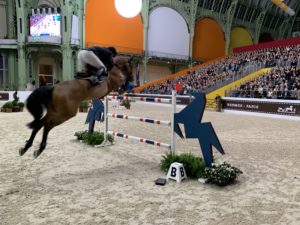 All I know about horses I learned from my brother Larry. Although he is a cowboy that use to compete in rodeos as a team roper, he knows horses and he taught me all about these particular horses at an event at the Denver National Western Stock Show one year. I know these athletic graceful Warmbloods were originally bred in Germany and they are the horses that compete in the Dressage and Show Jumping events around the world, including the Olympics. This sport has long been associated with Royalty and it isn't cheap. The top horses can sell for 100s of thousands of dollars to a few million and it can cost 10s of thousands a month just to care for them.
Like a lot of events in this world, you do not have to be a big fan to enjoy attending them now and then and this magnificent event that just happened to be in the Grand Palais in the center of Paris was no exception. The people watching in this "well to do" crowd was fascinating. I wish I could have discreetly taken a picture of the couple next to me that were straight out of Downton Abbey. I complimented the lady on her ring that was a sapphire surrounded by diamonds. I remember it as being the size of a dime, but I could be wrong. I do clearly remember her pleasant smile and very British thank you, as she tilted her head and I think her husband stood up a little taller, if that was possible. It was evident he was not the kind of gentleman that slouched much. I wondered how much it cost to get his hair to look like that.
The final act of the evening was Lorenzo Shaw and his twelve Lusitanos, which is a Portuguese horse breed closely related to the Spanish Andalusians. Note that only the two horses he was standing on had bridles and reins. The rest, up to twelve, were all controlled by voice commands as he rode and jumped around the arena to the sounds of Ravel sung by an Opera singer accompanied by a chamber orchestra. It was memorable and I think even Larry would have been impressed.
I got up Sunday morning and after a leisurely breakfast I headed for Metro for the short ride to Chatelet where I caught the RER A train for the 30 minute ride to Chatou just outside of Paris. Chatou is most famous because it use to be a  hangout for the Impressionist and it was here along the river, on the deck of the Maison Fournaise that Renoir painted his large masterpiece "Le déjeuner des canotiers" or "The Luncheon of the boating Party". That lovely lady in the front low left in the blue dress and straw hat playing with the dog is Renoir's girlfriend Aline Charigot, who he would eventually marry. The bare-armed gentleman sitting across from her is the artist Gustav Callebotte.
Twice a year Chatou is also famous for the "Foire Antiquites Brocant De Chatou" which is the largest and best Antique fair in all of France and the only thing that rivals the antiques here is the food. It is held on an island in the Seine in Chatou a couple hundred yards from the Maison Fournaise.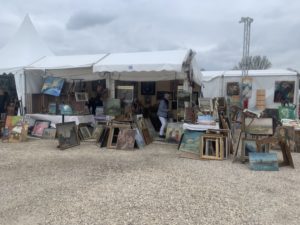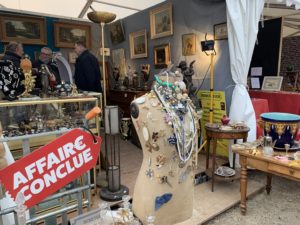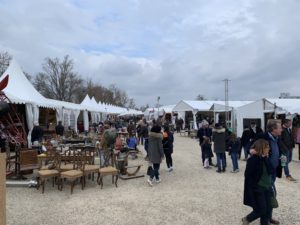 The antiques abound and it's a pickers dream, but the food is special from the Foie Gras sandwiches and the charcuterie to the oysters. After the Foie Gras sandwich, I settled on six size 0 (the largest) and a glass of wine from the lady who farms these oysters in Normandy. They were delectable.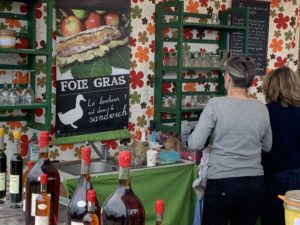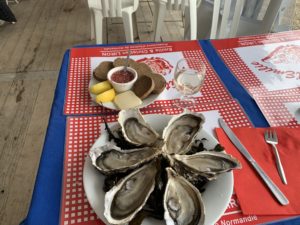 Well I have a day off until the opening of the very special "Salon du Dessin". This coming week all of Paris, from the auction houses to the show are all about drawings and works on paper and I will tell you all about it next time.