I took the train from Maastricht to Paris. It was a local from Maastricht to Liege, Belgium and then the high speed Thalys through Brussels to Paris. Local trains are very casual. There is a train every half hour from Amsterdam to Maastricht and you just walk into the station, buy a ticket and catch the next one. The high speed trains like Thalys, Eurostar, ICE and TGV all require reservations and seat assignments just like the airlines and the earlier you book the better chance of a good window seat.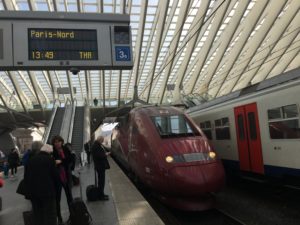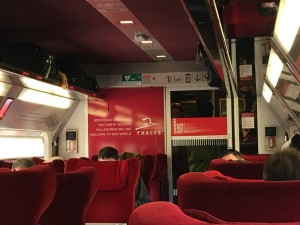 They are very comfortable with great food service and WiFi included and I am amazed at how smooth and quiet they are. The  clickety-clack of old trains or that annoying engine noise and "light chop" of airplanes are non existent. The only movement you can sense is the slight banking of the train in gentle corners because, like a race car at 200MPH, it is necessary for the train to "lean in" a little for stability.  The other good thing about trains is that you arrive in downtown Paris steps from the Metro (subway).  I got off the train and slid into a "Passport size Photo-booth" and then went to a Transportation Services booth and handed them a picture and bought a one week, renewable, all Paris Bus and metro pass.
I was at my apartment at 58,rue Mazarine in the heart of St Germain in a total of 15 minutes and the only difference between that short subway ride and Dorothy clicking the heels of those "Ruby Slippers" was that she clicked them to go home and I took that ride to arrive in "OZ".
The view below left is from my balcony and the busy, fun Buci market is on the street by the red awning.  A block past the red awning is Boulevard Saint-Germain at the Odeon Metro station. The next picture is that corner at rue de Buci looking back toward the apartment and two block further to the Seine at Point Neuf.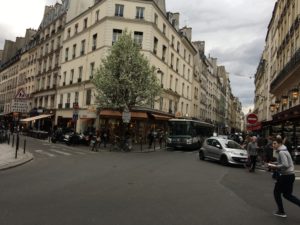 My first evening I headed out for the short 2 block walk to my favorite restaurant in Paris, l'Avant Comptoir and I was greeted by my old friend Sylvan behind the bar who gave me an incredulous look when I told him it had been a year since I had been there. He poured me a glass of my favorite wine and I ordered Coeur d' Canard (sautéed duck hearts), Jambon Ibaïona (the thinly sliced ham from Spain) with a side of Chorizo and finished with Calamari and Carpaccio de boeuf and a little chocolate Mousse.
Anthony Bourdain's friend, world renowned Chef Yves Camdeborde, has the famous restaurant "le Comptoir" and next door, l 'Avant Comptoir, l'Avant Comptoir la Mer, and the new l'Avant Comptoir le Marche a couple blocks away in the Marche St Germain. The stand up, meet your neighbors bar (no tables) and the  tapas style French food is perfect for me eating alone and the last time I was in Paris I ate in one of these places at least 3 times a week and made many friends there.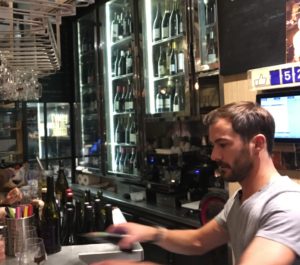 There is an obvious advantage to being in Paris for 5 weeks and that is there is no rush. You have to be careful not to put things off because the time will fly by, but essentially you will have plenty of time to just walk around and enjoy this beautiful city.
My first few days I dropped by the Musee d'Orsay to renew my membership and say hi to the Impressionist, especially Monet, Manet and Renoir along with van Gogh and Gauguin. I know they all would be upset with me if they knew I was in town and did not stop by, but I reminded them I will be back several times before I leave. That membership that allows me to skip the line walk straight in to the Musee d'Orsay anytime I want may be one of the best investments I have ever made.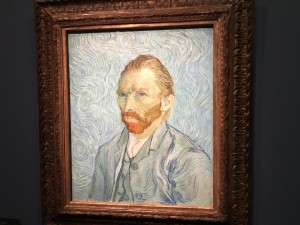 I picked up my Vernissage ticket to next weeks extravagant annual "Art Paris" in the glorious Grand Palais. Last year President Francoise Holland was a fellow guest. I was able to fit in a visit to a preview of the upcoming Christie's auction featuring Drawings that is also in the great neighborhood on the north side of the Champs Elysee. It is home to Christies, Sotheby's, the Gagosian gallery (and many others), Musee Jacquemart, Musee Maillol along with the offices for "Art Paris".
Today I am heading off to visit the preview of the Art Impressionniste et Moderne sale at Sotheby's and later I am going to an opening at Jane Roberts Gallery in that famous Champs Elysee neighborhood. I am excited to meet Jane because she is the woman who is about to publish the second edition of her book "Growing up with the Impressionist: The Memoirs of Julie Manet" which will include an image of my new painting by Julie.
After all of that I am heading to the annual spring opening party at Marche Daphine in the famous French flea market or Marche aux Puces de Saint-Ouen. It is always a great event with plenty of wine food and music.
Just a simple day in Paris with many more to come.